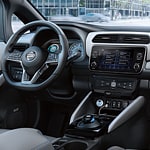 The 2022 Nissan LEAF is one of the most popular electric vehicles on the market. The infotainment system has been completely redesigned and now includes an 8-inch touchscreen display, Apple CarPlay/Android Auto compatibility, and a full suite of voice recognition commands. This infotainment system is designed to be intuitive and easy to use while also providing access to your favorite music, podcasts, apps, and navigation tools.
The wireless charging makes it easy to charge your phone without searching for an outlet or fiddling with cords. With voice recognition technology integrated into every aspect of its design, you can control many functions within your car without ever having to take your hands off the wheel or your eyes off the road. From making calls and changing radio stations to accessing navigation data – it's never been easier or safer to stay connected while driving.
Whether you're cruising around Yorkville, NY, or taking a longer road trip - the 2022 Nissan LEAF at Steet Ponte Nissan promises an even better driving experience than before.